Located near Lebanon Missouri
Phone: (417) 453-6210

Welcome to Forrest-Pride Dairy Goats
Breeding for the "true" LaMancha Dairy goat.... A breed apart.
Unique and wonderful.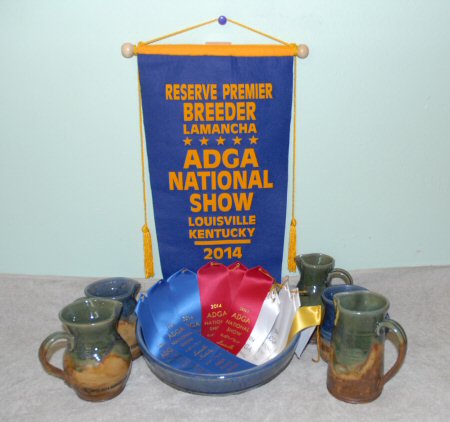 We are proud to introduce our newest lovely homebred Champion doe "Tachie"
who finished her SGCH with a Best Doe in Show win at the Southwest Missouri Quad Dairy goat show June 2018!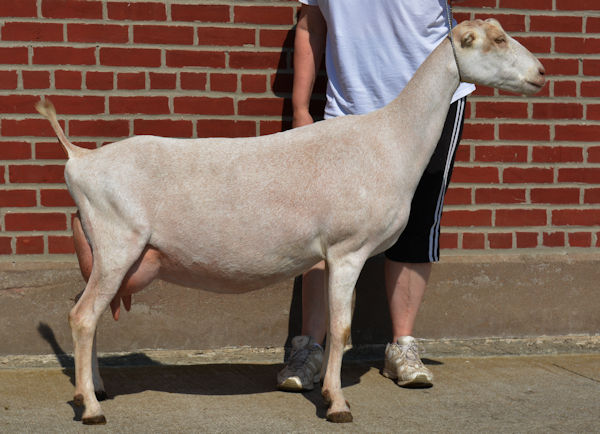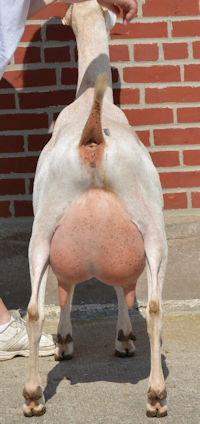 SGCH Forrest Pride Keep Tach'n 7*M LA 03-03 91 EEEE
(AI Daughter by ++*B SG KASTDEMUR'S TACH LACH and SGCH FORREST PRIDE WW DIVA BEYONCE 6*M LA 92 EEEE)


2014 ADGA National show for their TOTAL PERFORMANCE and HIGHEST PRODUCTION for the LAMANCHA Breed shown!



SGCH Forrest Pride WW DIVA BEYONCE 6*M LA 92 EEEE
2014 ADGA National TOTAL PERFORMER



SGCH Forrest Pride She Will CHARM U 5*M LA 90 EEVE
2014 ADGA National Show Production award winner
All 4 catagories!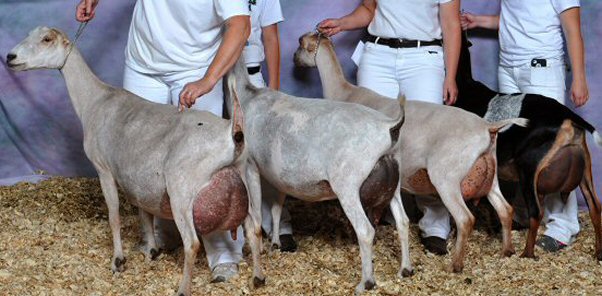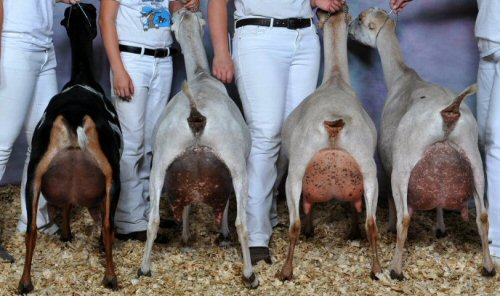 Our 3rd place National Dairy herd 2014 National Show
(ALL of these does are still alive and 3 are still in our herd and due to freshen at ages 8, 9 and 10! We breed and select for longevity!)

FORREST PRIDE PROUDLY PRESENTS...
2 DECADES OF WINNING HOME BRED CHAMPIONS!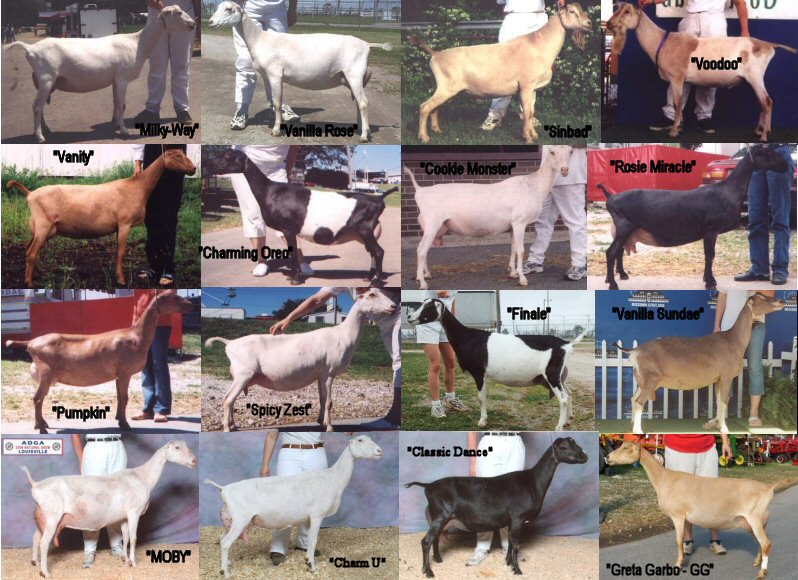 This picture represents 26 of our ADGA Permanent LaMancha Champions on record. Each one carries the Forrest Pride herd name and is a product of our breeding program. Many of these animals carry the designation of Superior Genetic Champion (SGCH), meaning they have placed in the top 15% Production/Type Index (PTI) ranking for their breed.

The oldest, in the top left corner, was born 1998, she is CH Forrest Pride Venus' Milky Way, a grand daughter of our very first grade LaMancha doe and the dam of our Multiple Best Doe in Show winner:
SGCH Forrest Pride Milky's Legacy LA 92 EEEE, pictured left with her Champion daughter GCH Forrest Pride Legacy's Victoria, followed by her Grandaughter, GCH Forrest Pride Forever Victory.

The Incredible MOBY is also well represented in these animals with now 4 daughters and a Grandaughter, and 2 great Grandaughters, Nikki and Tachie!

Twenty two years of a very successful breeding program!!
I look forward to many more...
Our foundation of juniors is the strongest it has ever been!!

Updates are regularly posted to our Facebook page, check it out and "Like" us for instant status updates.


Special Recognition!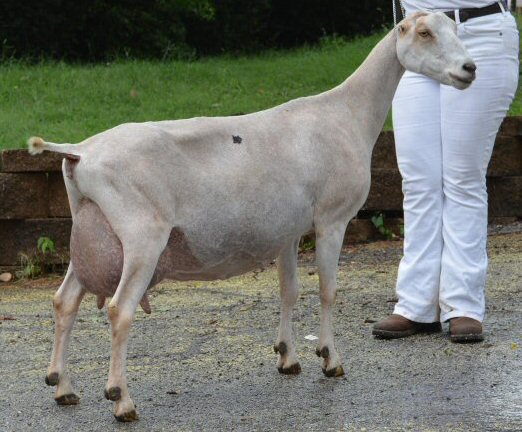 SGCH Forrest Pride WW Diva Beyonce 6*M LA 92 EEEE @ 6 years old.

The incredible Beyonce now has 24 times Best Of Breed and 9 times Best Doe in Show to her credit
AND she was also named Best Doe and Best Udder in show at the 2016 Missouri State Fair!
Not just a "show doe"! Beyonce will be freshening at age 10 this year, she remains in excellent health!



Forrest Pride LaManchas has been the premier LaMancha Dairy goat exhibitor at
Missouri State fair, 2003, 2004, 2005, 2006, 2007, 2009, 2010, 2011, 2012, 2013, 2014, 2015, 2016, 2017, 2018 AND 2019!!!!!
(Not in attendence 2008)
The Forrest Pride LaMancha Dairy Goat herd, has been awarded the
Best MISSOURI STATE Herd, 2004, 2009, 2010, 2011, 2012, 2013, 2014, 2016 AND 2018!!
This class must consist of 5 animals owned and bred by the exhibitor
3 Sr. does and 2 Jr. does all from different classes.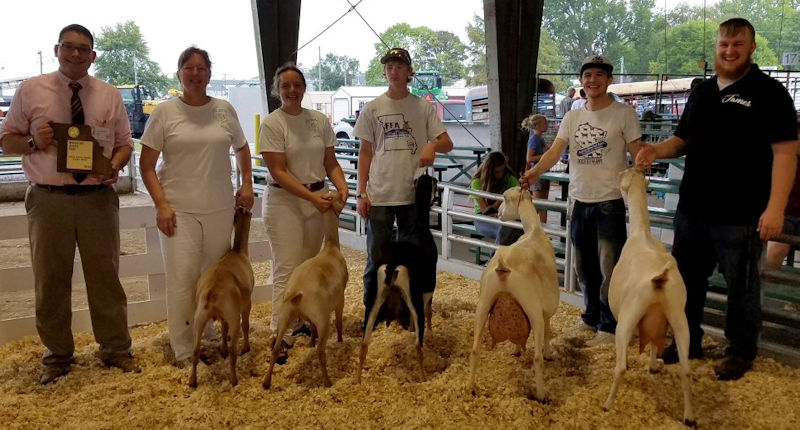 Our 2018 Missouri STATE Herd!


The Forrest-Pride dairy goat herd is located on our 120 acre farm in the beautiful hills and forest of the Missouri Ozarks. The dairy goat herd consists of about 20 quality does and bucks, bred for consistency in health, longevity, temperament, milk production and show. Health is #1!
We have been selectivly breeding for dairy goats who excel in longevity and milk production, goats which are a joy to handle every day in the milk room and out in the pasture, does who kid easy and have high resistance to parasites. We select for a mild temperament, easy to hand milking does with good tasting milk. While this is a show herd, the primary desire for raising these animals is for the products they produce and being able to reproduce and improve the genetics of these animals which will fit well into family farms, for children and families to enjoy well bred, healthy dairy goats and have fresh raw milk for consuming, making cheese, ice cream etc.

We test annually for CAE and have posted our results for the past 20 years on this site. Click here to view our 2020 CAE neg. results on the entire herd from WSU. At the bottom of every year's results we have a link to the previous year, we have sucessfully maintained a CAE negative herd for the past 2 decades.

Our herd is also free and always has been, of contagious abscesses (CL) and Johnes (wasting disease) All new dairy goats entering the herd are isolated and tested, prior to joining the rest of the herd.


As we head into our 25th year raising dairy goats, we had another successful and exciting year.

We attended several local shows, several of our jr's earned dry legs and our lovely 3 year old Beyonce daughter Felicia finished her Championship.
We select only the very nicest buck kids from our best does to sell as herdsires. All of our buck kids are sold registered with ADGA and DNA submitted as part of their sale price.
On every doe's page that was on test and appraised you will see a DHIR record as well as Linear score at the description. The DHIR Record will look something like this:
2-00 228 1977 3.9 78 3.3 65 (in prog), this translates to 2 years at freshening, milked for 228 days, made 1977 lbs of milk, with a 3.9% of Butterfat yield (78 lbs) and 3.3% Protein yield (65 lbs) "in prog" means that this lactation in still in progress. The Linear score will look like this: LA 3-03 FS 90 VEEE, which translates to being appraised at 3 years and 3 months of age, with a final score of 90 out of a possible 100 and a break down of a "V" (85-89 points) for General Appearance and an "E" (90 and above) for the categories in the order of Dairy Character - Body and Mammary.
DHIR testing and Linear Appraisal have both been wonderful learning experiences, and we hope to continue with them in the years to come.
Please take note the links at the bottom of each animals description that connects that animal to other closely related animals. This is provided as a quick reference to each family tree.
Terms of sale:
A $100. deposit, will reserve a kid until notification of birth, at which time 50% of the remaining balance is due with the other 50% due at time of pickup or shipping - NO EXCEPTIONS!
Dairy goat kids are held until the age of 4 weeks, at which time they can be shipped or picked up at the farm.
Kids which are not able to be picked up or shipped, due to the buyer's situation by 4 weeks of age, will cost a boarding fee of $25 a week until the kid can be picked up or shipped to you.

Kids that must be shipped because of long distance, or in the case of 2 or more kids to pick from, a video can be provided, depicting the kids conformation and health, before the kid is to be shipped or picked up.

Shipping Notice:
Due to the number of animals we ship through the airlines, we have an account set up with a cargo service which gives us access to discounted shipping. We also have access to shipping crates in bulk, making them slightly cheaper.


Buck kids out of first fresheners, will only be sold if the dam freshens with a beautiful, soundly attached mammary system and I feel her buck will be an improvement to the breed. We do not market buck kids from young does, they must be pre-ordered or spoken for shortly after birth.
ALL buck kids sold will be registered prior to sale with ADGA, and DNA sample submitted through ADGA's DNA program, this is included in the listed price for the buck kid.
If the kid from your chosen breeding is not born or is not of the quality that I feel should be sold for breeding or show purposes, your deposit will be refunded or transferred to another breeding.
A $75 fee will be necessary to cover the health check and mileage to the airport if the kid is to be shipped. Shipping costs will be the responsibility of the buyer.
As breeder, we reserve the right to retain any kid born for our own breeding program, regardless of prior deposit. Deposit will of course be refunded or transferred at buyer's discretion. We also retain the right to refuse sale to anyone that we do not feel will provide adequate care to the animal.