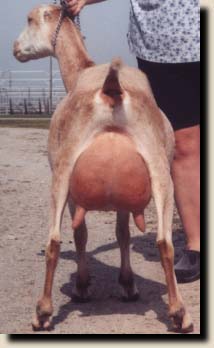 Legacy was an amazing doe! She was our top doe on the show string for many years, nearly unbeatable every ring she entered, she just got better with age! at age 6, she appraised EXCELLENT LA92 EEEE. She completed her 305 day lactation with 3,086 and went on to milk to 350 days with a total of 3,330.

Legacy was the daughter of one of our Champion Herdsire, CH Forrest Pride Vanilla's Sinbad, who finished his permanent Championship going Best Buck in Show at the SMDGA Quad show as a yearling. Legacy was very sharp, uphill and dairy, she was wide and strongly built, with good feet and legs.. Legacy was Best Senior Doe in Show at the 2005 Missouri State Fair, she was also Best Udder of Breed!!

Sadly we lost Legacy this fall at 15 years of age.. her blood will live on through her daughters, grandaughters and great grandaughters here in the herd.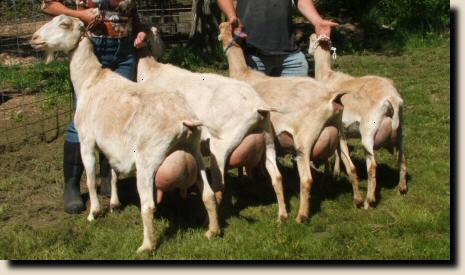 Pictured above is a 4 generation family, 9 year old Legacy, her daughter Vicki, grandaughter Tori and yearling Great Grandaughter Vibe pictured early spring 2010, while Legacy was still in milk. Legacy is retired from the show ring, but she is in very good health, staying home producing more beautiful offspring.

LA 2-05 FS 87 V+EE
LA 3-07 FS 85 VV+V
LA 4-04 FS 89 VEEE
LA 5-05 FS 90 VEEE
LA 6-03 FS 92 EEEE
DHIR:
2-01 253 1797 3.6 65 2.9 52
3-01 254 2250 4.3 81 3.1 69
4-01 305 2778 3.7 102 3.1 87
4-11 305 3086 4.1 125 3.1 96
6-00 296 2744 4.2 116 3.1 84